Family fun Magic Shows for all ages!
The Birthday Child is the star of the show
Magic Fred always specifically designs a portion of the program to feature your child as the star of the show! This, of course, will make your child feel like a superstar in front of all their friends and family.
---
Amazing Birthday Party Magic Show!
The Birthday party magic show includes an amazing portable set up that will transform any room into a theatrical setting! Your guest will be greeted into the magic show with a professional backdrop and upbeat music. They will surely know it's SHOWTIME! The show is perfect for any age group and trust me the kids will have crazy fun when they see this show.
Magic Fred's goal is simple… making sure your child's birthday party rocks!
If you're looking for something smaller or walk around close up magic by the hour, He offer that as well. He can perform a entire show out of a suitcase with cards coins etc., if interested in other options please let us know.
---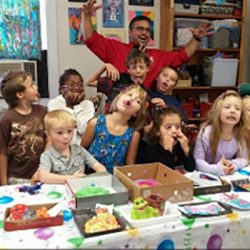 About The Show!
Family fun entertainment for any event
Clean comedy to keep your kids laughing and engaged while my magic will leave both children and adults in awe!
Theatrical Backdrop with lights
Your guest will be greeted into the magic show with this professional backdrop and upbeat music. They will surely know it's SHOWTIME!
Amazing Bose Sound System
Magic performed to entertaining music that adds to the magical experience.
Audience Participation
Not only will this increase the excitement of your event, it will also result in a more memorable experience.
Amazing high-quality magical illusions
He always fills the performance area with as much Magic as possible!
Great Local Reviews
I am confident your guest will love the show. See what other locals are saying about my shows, check out our reviews – Magic Fred The Magician or swing by our facebook page.
---
Just be sure to have your cameras ready to capture that moment!
Three Must-Have Tips for Throwing a Fun Stress-Free Birthday Party!
We understand how difficult planning your child's birthday party can be. Below you'll find a few tools to aid in your planning process. We are here to help so please feel free to contact us anytime with question you may have.
If you're getting ready to throw your child a party, these 3 tips will help keep the stress levels down while skyrocketing the fun levels through the roof!
Keep It Short
For the younger kids keep the length of the birthday party to a maximum of two hours. This ensures that the kids leave on a high, and the parents who are staying will not be constantly clock watching.
Relax and Breathe
The truth is your child won't remember if the birthday party decorations are perfect, but they will remember if you're in a good mood and smiling. Take a breath and enjoy the party as much as the kids are.
Start Off With a Project
For younger kids, it's a good idea to have something for them to work on right from the start. Remember how you sometimes get nervous walking into a cocktail party? This is where it begins.
---
FREE E-BOOK!
Do you want to guarantee that your child's birthday party ROCKS? Download your free guide below.
---
Make your event a huge hit with professional face painting!
Every Show Comes With 100% Money Back Guarantee!
Looking for a Magician or a Birthday Party Places with lots of five-star reviews? I am proud to say the Magic Fred Show has been a huge success!
I have never been asked to honor my money back guarantee. With that said, if for any reason you're not 100% satisfied with my performance, you simply don't pay a dime.
More Memories, Smiles, and laughter Guaranteed