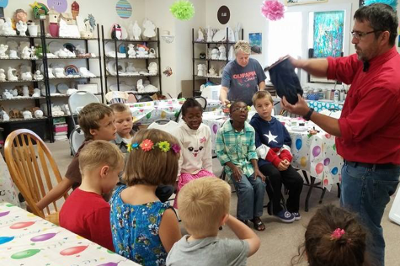 Have the show on a level surface.
Every performance is arranged so the audience faces Magic Fred (like a theater).
For indoor events it is best to have 8 feet of space from the wall to the first row of guests.
If outside, the sun should be behind the children so they do not look into it.
Performances should not be in traffic zones like doorways and patios.
Reroute traffic flow by closing off areas, if needed.
Don't tie balloons to chairs, tables or the foot of the stage because they obscure the view.
Distractions should be removed – food, pets, toys, balloons, music & games.
Magic Fred usually arrives 45 minutes early (or more). Allow 30 minutes to set-up the sound system, assemble tables and other props. Kids at a Party
No one should sit or stand beside the show including set-up time because of the space required to assemble things and the distraction they cause.
Videotaping or photography is welcomed.
A parking space and a hand carrying things are appreciated because I usually need help to load equipment (up to 6 trips).
Strolling magic should be considered when a stand-up show is not possible.